Well, after a long design dry spell, I am finally ready to debut a new pattern! I enjoyed using Silky beads so much in my Diadem Bracelet, that I decided to keep working with them. After much trial, error, and Jane Austen movies on Netflix, I finally developed this-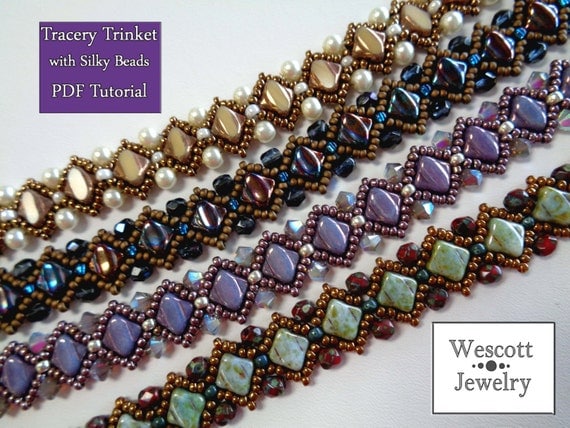 Exciting, huh? I used the Silky beads again and tried to keep the bracelets slim. It's really tempting to make a big, wide cuff with a bajillion Silky beads, but I think the more narrow bracelets are a bit more wearable (at least for a fashion-timid gal like me). And they are totally stackable!
The accent beads on sides can be all sorts of different shapes. Bicones or pearls give you a more dressy look-
Or you can go with Czech fire-polished crystal for a more casual bracelet.
It's a very versatile technique and I have had a blast mixing colors and shapes. If you local bead shop still hasn't caught up with the Silky bead trend (and who can blame them with so many new shapes to choose from?), I recommend AriaDesignStudio and GCSuppliesTexas on Etsy for Silky beads in some really pretty colors and finishes.
In other news – the deadline for the Component of the Month challenge from Art Jewelry Elements is coming up. Since I was lucky enough to win a piece, I have been frantically designing with it. Wish me luck and check back here on Saturday!