Hello, friends! It's time once again for another Time to Stitch challenge from Christine and Therese! This time the challenge is to explore bead embroidery!
I have some experience with bead embroidery, but it definitely a weak spot in my beadweaving arsenal. Generally, I find that my stitching ends up looking kinda sloppy and I am TERRIBLE about keeping things symmetrical. Here are a few examples of embroidery pieces I have made in the past. They're certainly not awful, but they're just a bit… messy for my taste.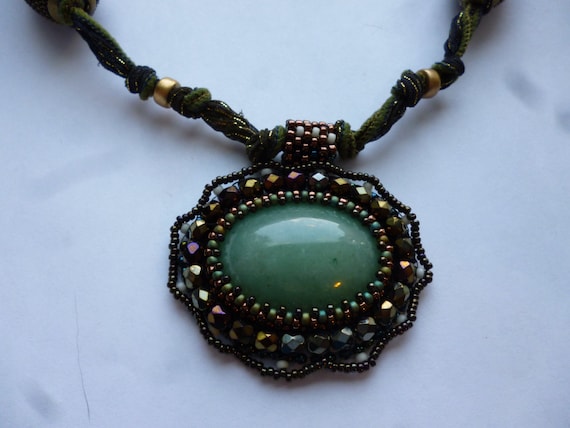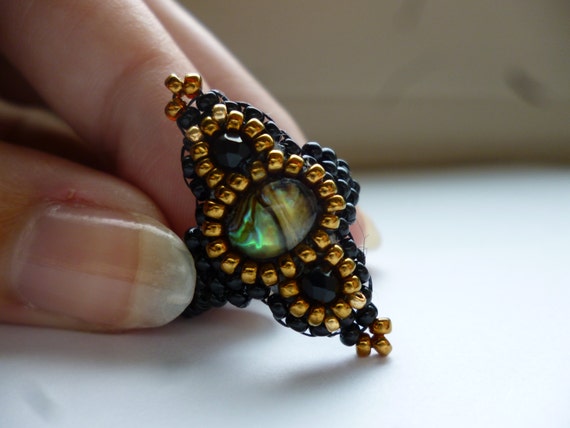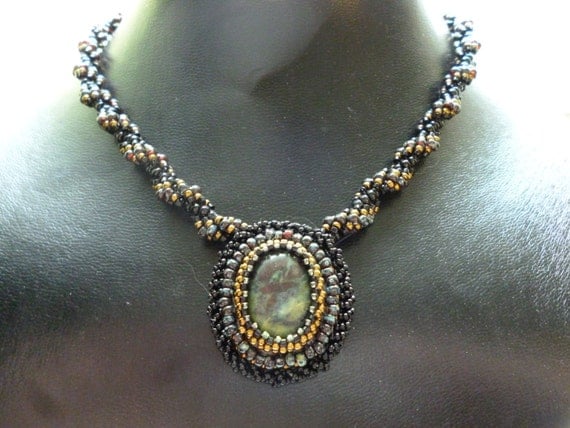 The freeform construction of these pieces are completely counter intuitive to me. Off-loom beadweaving, which I almost exclusively do and write patterns for, is like building with Lego blocks. It's construction and building and fitting shapes together. Bead embroidery is more like painting or sketching, both things that I have never been any good at. But what better way to practice and improve than with this ATTS challenge?
I ended up making a hair barrette with some leftover cabs I found in my stash. I want to say that the pink stones are Rhodonite, but I have no clue about the pale green stone in the center.
I'll admit, I'm a little embarrassed to post pictures of this piece, because it really isn't up to my standards. The stitching is sloppy and I don't like how the color scheme ended up. But, like I said, I need to practice if I want to get better. And I am proud of how clean the back of the piece and the barrette look. Usually, I get glue everywhere, but this actually looks nice!
So, all in all, it was a learning experience and I am ready to keep trying and improving!
In the mean time, check out what the other participants in this challenge have made and be sure to leave lots of comments as you hop from blog to blog! 
2. Christine  (Host)
3. Amy
4. Lola
5. Lori F
6. Kim
8. Karin G.
10. LizE
11. Maryanne
12. Paula
14. Wendy
15. Janet
16. Jasvanti
17. Ginger
18. Alicia
19. Bobbie
20. Shirley
21. Sarah
22. Cynthia
24. Lizzie